Sign up now using EventBrite.  Only space for 15 attendees! http://lvl1diypcb2013.eventbrite.com/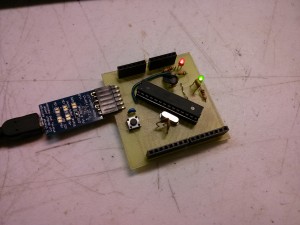 Chinese New Year got you down? Â Even though its easier than ever to have your own PCBs made in China, being able to roll your own is a valuable skill to have, from simple-but-large designs, to the annual 2 week hiatus in electronics manufacturing known as "Chinese New Year."
On Saturday, March 16th, Learn how to make your own PCBs using nothing more than some copper-clad board and dangerous household chemicals! Â Walk away with yet another Arduino clone!
You'll walk in with all the knowledge you need to perform toner-transfer PCB etching using Muriatic Acid and Hydrogen Peroxide. The process is described in more detail here: http://www.meatandnetworking.com/projects/toner-transfer-and-muriatic-acid-etchant-making-pcbs-at-lvl1/Â Hone your soldering skills on a bare copper board, and blink an LED with the finest!
All you need for this workshop is yourself! If you want to test your Arduino, bring a laptop with the latest Arduino IDE installed. Â If you already have an FTDI cable, buy the FTDI-less ticket.
Once again, sign up now and sign up often! LVL1 Members get a discount! Sign up now using EventBrite.  Only space for 15 attendees! http://lvl1diypcb2013.eventbrite.com/